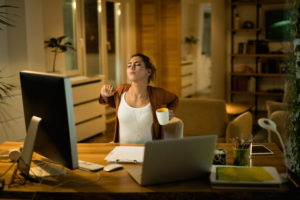 The pervasive global disturbance in the past few months has resulted in countless organizations across the U.S. now having their employees work from home. Working remotely on a day-to-day basis is a brand-new concept—and a major lifestyle shift—for many employees, and they may not have proper home offices set up where they can work comfortably, safely, and productively. However, whether prompted by the novel coronavirus or not, work-from-home arrangements are becoming increasingly common, so employers should consider strategies for encouraging ergonomic best practices and keeping employees safe as they telework. 
Why is it important for employees to follow sound ergonomic practices when working from home? 
When employees suddenly transition to working from home, they generally do not have the proper ergonomic equipment that they previously had at the office. They may find themselves working on the couch, slouched over a kitchen table, or even propped up in bed. While these options may sound comfortable, they can cause employees to spend long hours working in an awkward position—which can lead to discomfort, reduced productivity, and a heightened risk of musculoskeletal disorders (MSDs). At a time when most employers are already facing disruption and the potential for financial loss, it is advisable to take reasonable steps to provide a bona fide telecommuting space to avoid further problems.
How can employers help workers improve ergonomics when working from home? 
Organizations that are coping with an unprecedented number of employees working from home should consider the following strategies to encourage sound ergonomic practices:
Assist employees with remote services to help them set up a proper workstation, such as an external mouse and keyboard if they are using a laptop.

 

Offer web-based training. With employees working remotely, equipping them with customized training materials that they can easily access from home can help empower them to protect their own well-being.

 

In the absence of proper equipment, educate employees about ways that they can modify their new physical workspaces to be more ergonomically friendly.

 
If you find yourself in this position, we're here to help if you need it! Performance Ergonomics offers the following services to help you support your employees as they work remotely: 
If you are interested in supporting your employees with proper ergonomic equipment, the experts at Performance Ergonomics can help! As a niche office ergonomics dealer, we can make product recommendations, offer guidance on workstation layout, and simplify the process of obtaining and installing high-quality products for your employees' needs.

 

At Performance Ergonomics, we directly collaborate with our partner, a third-party who is providing online office ergonomics software at no cost. This software is tailored specifically for the work-from-home workforce in response to the coronavirus (COVID-19) crisis. We will connect our clients with this software, which includes specific recommendations based on a short online survey completed by users, as well as training materials that feature tips for working from home, stretching, and managing stress. In addition to this game-changing free software, the service allows employees to request one-on-one ergonomic support and training by phone for a small fee.

 

We can connect your employees with an ergonomics e-Learning course to guide them through the process of setting up or improving their home office workstations. Employees can quickly and easily access this course from any browser.
We can also offer professional guidance on making at-home workspaces as comfortable as possible. For example, here is a handout that we created featuring some helpful pointers on home workstation set-up: https://performance-ergonomics.com/v2/wp-content/uploads/2020/03/PE-Work-from-Home-Handout.pdf
As your organization navigates the transition to a remote workforce during these challenging times, the Certified Professional Ergonomists at Performance Ergonomics are here to help you and your employees create at-home workspaces that are ergonomically safe, comfortable, and conducive to productivity. Contact us today to schedule a consultation! 
(Sources: https://source.colostate.edu/ergonomic-tips-for-working-from-home/, https://www.fastcompany.com/90480052/how-to-perfect-your-home-work-set-up-so-your-back-stops-hurting-so-much).