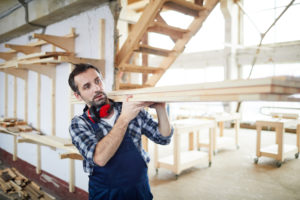 Your company has jobs where workers are lifting, carrying, pushing or pulling, and grasping tools to create your products. Employees spend thousands of hours actively reaching, bending, twisting, and exerting themselves. Despite your safety efforts, musculoskeletal disorder (MSD) cases fill your OHSA recordkeeping forms. Whether by insurance payments for premiums, healthcare costs, or time loss from work, these incidents are expensive.
And what's worse, musculoskeletal disorders result in restricted work activity or days away from work. 
Which is to say, the increasing severity of sprain and strain injuries to muscles, joints, and connective tissue may go unreported until it develops into a condition requiring a long recovery time that can wreck your eMod and safety record.
That's why we created the Performance Ergonomics Injury Prevention Plus Program. What makes this different from anything you've seen is that we use the sports medicine model—promoting early intervention with industrial ergonomics to integrate health and human performance. The result is that you're able to fend off avoidable OSHA recordables.
MSDs don't need to be "recordable" injuries.
Every time your worker has mounting discomfort, we step in to render "first aid" and insist upon monitoring the precursor to prevent an injury if at all possible. The Injury Prevention Plus Program puts you in the driver's seat. The best part is that every other employee who does the same job also benefits from eliminating the work-related stressors.
"Impossible!" you think. 
Possible… Practical… Proven! Ask us about the results others have had.
No more insurance premium increases… no more rising work comp claims… no more hassles managing work restrictions… no more out-of-control medical treatments driving healthcare costs…
Wouldn't you prefer this?
Proactive control over lost time and workers' compensation costs.
Onsite injury prevention experts who understand work-related injuries and your business.
Proven strategies such as ergonomics, body mechanics, and stretching.
An effective means of applying first aid to manage sprain/strain injuries.
Job-specific plans for workers to get ready for soft tissue stressors and work demands.
Sprains and strains are largely the problem, and it takes a specialized skill set and experience to find the root causes of soft-tissue conditions like tendonitis, bursitis, shoulder impingement, neuritis, chronic back pain, or a herniated disc. We know working with properly credentialed professionals makes a difference. It takes highly qualified providers to secure the trust of leaders and the confidence of workers—that's what sets us apart.
Contact us today at https://performance-ergonomics.com/#contact to schedule a consultation.