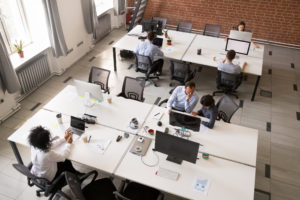 While the term "ergonomics" is commonly associated with workplace comfort, many employers do not realize how important ergonomic factors are to the success of their organizations. Regardless of the industry, ergonomics may have a significant impact on workplace safety, employee satisfaction and productivity, and ultimately, an organization's profitability.
Wondering how ergonomics may affect your organization? The following frequently asked questions provide a helpful overview of ergonomics for employers. 
What is ergonomics?
Defined as the science of studying people in their working environments, ergonomics seeks to design or modify the workplace to fit the worker—not vice versa. The ultimate goal of an ergonomics program is to reduce employee discomfort and the risk of injury while improving job performance. In pursuit of this goal, ergonomists take into account a variety of factors, including equipment used by the worker, methods of performing the job, and the worker's physical characteristics and limitations. Additionally, ergonomists consider three main stressors that are linked to risk of injury: the force required to complete a task, the repetitiveness of a task, and any awkward postures that the worker uses. Typically, these three in combination with each other account for many workplace problems.
What types of workers are affected by poor ergonomics?
A common misconception among employers and employees alike is that office employees who work at desks are "safe" from work-related injuries. In reality, all types of workers—from construction workers to healthcare professionals to those who spend their days behind a desk—may face a heightened risk of injury due to poor ergonomics. Across various industries, musculoskeletal disorders (MSDs) are some of the most common work-related injuries. Musculoskeletal disorders, which often result from awkward postures or repetitive motions, include herniated discs, back pain, carpal tunnel syndrome, tendonitis, and other debilitating ailments that may prevent employees from performing their job duties optimally—while yielding significant costs for employers.
Why should employers care about ergonomics?
Due to the link between proper ergonomics and employee comfort, productivity, and risk of injury, workplace ergonomics has a direct impact on an employer's bottom line. By committing to an ergonomics program, employers may experience the following benefits:
Fewer workers' compensation claims.
Reduced medical costs as a result of fewer injuries.
Reduced indirect injury-related expenses, such as the costs associated with recruiting and training a replacement for an injured employee.
Enhanced productivity—employees who are comfortable and free of injury tend to work more efficiently.
Better workforce morale, which results from employees knowing that their employers are investing in their safety and comfort.

 

Reduced absenteeism, since proper ergonomics tends to keep employees healthy, pain-free and engaged.

 
How can employers improve workplace ergonomics? 
In implementing an ergonomics program, it's important to remember that each workplace is unique and will require customized solutions. For best results, employers should plan to adopt a comprehensive, long-term ergonomics program that encompasses all workers, rather than seeking quick fixes. 
At Performance Ergonomics, one of the first steps we take in developing an ergonomics program for a client is providing an onsite assessment, which evaluates factors such as the physical demands of a job, workplace conditions and hazards, each worker's physical capabilities, and current discomfort levels. After completing an onsite assessment, we will make a variety of recommendations for improving workplace ergonomics, including:
Recommendations for helpful equipment, solutions and products.
Guidance on how work techniques may be improved.
Implementation of an ergonomics training program customized for the client's industry and workplace. We offer a variety of flexible options for training programs, and strive to cover practical hands-on scenarios to keep sessions engaging and informative.

 
In helping our clients gain a better understanding of ergonomics in the workplace, we combine the latest technology with personalized, face-to-face attention. Our goal is to support our clients in improving productivity and profitability by creating a safer, healthier, more comfortable workplace. Contact Performance Ergonomics today to schedule a consultation! 
(Sources: https://ehs.unc.edu/workplace-safety/ergonomics/, https://osha.oregon.gov/OSHAPubs/ergo/ergoadvantages.pdf).