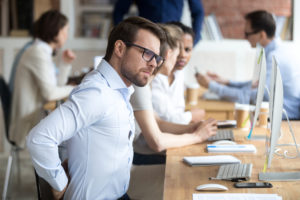 For employers in any industry, ensuring a safe workplace is essential to minimizing costs and boosting employee satisfaction and productivity. When it comes to office employees who work at desks, however, many employers harbor a dangerous misconception: that desk employees are not likely to become injured on the job because they do not engage in strenuous or risky physical activities. In reality, long periods of time sitting at a poorly designed desk heighten the risk of musculoskeletal disorders (MSDs)—which encompass some of the most common work-related injuries—as well as other ailments, including eye strain and headaches. Fortunately, many of these conditions may be prevented through relatively simple and cost-effective ergonomic improvements in the office environment. 
Musculoskeletal disorders (MSDs) in office employees
Musculoskeletal disorders (MSDs) are injuries or disorders of the muscles, nerves, joints, tendons, cartilage, and spinal discs. As opposed to injuries that occur suddenly due to workplace accidents, MSDs accrue over a prolonged period of time when someone performs normal tasks in an awkward position repetitively. Office employees often sustain MSDs as a result of poor posture, improperly designed workstations, and sitting in the same unsupported position for long periods of time. Without realizing that they are slowly harming their bodies, employees can develop painful conditions that may impair their performance and satisfaction at work, or even prevent them from continuing in their occupations. 
Don't sabotage health and wellness efforts
For employers, work-related MSDs represent several direct and indirect costs that may significantly harm the organization's profitability. Healthcare coverage is expensive and insurance premiums continue to rise steadily, as do the deductibles that workers pay. Many office workers don't associate their aches and pains with actual workplace stressors and pursue continuous treatment at a chiropractor or physical therapist. Worse yet, due to high co-payment costs and an overall lack of seeing symptoms resolved, employees resign themselves to chronic pain and steadily decreasing activity levels. Prevention of these illnesses and injuries can only occur when the work environment is modified and improved. 
In the event an MSD results in a workers' compensation claim, the costs are significant as a result of medical expenses, reduced productivity due to ongoing discomfort, increased absenteeism, diminished workforce morale, and costs related to recruiting and training replacement employees while an injured employee is out of work. Therefore, all employers have a financial interest in taking steps to reduce the risk of MSDs and other injuries to which office employees are susceptible. 
Preventing workplace injuries through ergonomics
Since MSDs are generally caused by factors such as an employee's awkward posture or poor workstation adjustability, employers can significantly reduce the risk of these debilitating injuries by improving ergonomics in the workplace. For example, employers should consider the following steps:
Conduct an ergonomics risk assessment. The first step to improving ergonomics in your workplace is to understand the current risk factors. This process involves assessing the job tasks that each employee routinely performs, gauging employee discomfort levels, and examining workstation equipment and layout. When you work with Performance Ergonomics, our Certified Professional Ergonomists will conduct a thorough evaluation of these factors and propose a comprehensive ergonomics plan tailored for your workplace and employees.
Invest in proper furniture and equipment. For employees who spend most of their days behind a desk, various elements of the workstation influence their comfort levels and the likelihood that they will develop an MSD. Specifically, proper seating, the desk, computer monitor, keyboard and mouse, and the layout of these items in relation to each other are crucial because they significantly impact an employee's posture. When purchasing office equipment, many items are labeled "ergonomic"—but that does not necessarily mean they will be optimal for every employee. After conducting an evaluation of your workplace, the Performance Ergonomics team will make specific product recommendations and provide guidance on proper workstation layout. As an office furniture dealer focused on this niche market, we also help our clients streamline the process of procuring and installing high-quality products.

 

Implement an ergonomics training program. In order to cultivate a safer, happier, and more comfortable workforce over the long-term, it is essential to educate employees about proper ergonomics, potential risk factors, and the early signs and symptoms of MSDs. This empowers employees to identify and mitigate risks before injury or substantial discomfort occur. Performance Ergonomics can work with your organization to design an engaging and informative training program customized for your workforce.

 

Encourage open communication between employees, managers, and HR professionals. No one understands employees' comfort levels when performing their jobs better than the employees themselves. Therefore, they are in the best position to prevent costly workplace injuries—but they must feel free to express their concerns if they are experiencing pain or discomfort at work. Facilitate open communication by establishing channels through which employees can voice their concerns, and promptly take steps to rectify any reports of uncomfortable equipment or seating arrangements. After implementing measures to improve office ergonomics, solicit feedback from employees to assess whether the modifications have been effective.

 
Are poor ergonomics exposing your employees to the risk of painful and costly MSDs? Taking a proactive approach to office ergonomics is the key to ensuring a safe, comfortable, and productive workforce. Contact Performance Ergonomics today to schedule a consultation! 
(Sources: https://www.cdc.gov/workplacehealthpromotion/health-strategies/musculoskeletal-disorders/index.html, https://ehs.unc.edu/workplace-safety/ergonomics/office/).